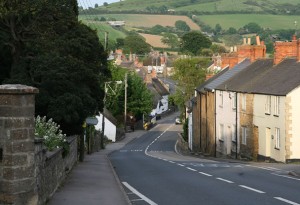 Chideock is only a stone's throw from Bridport (and West Bay) to the east and Charmouth to the west, both of which are outstanding holiday destinations in their own right. Chideock has it's own holiday access to the Jurassic Coast via Seatown. This is the favoured parking place for holiday makers who wish to climb the famous Golden Cap, which is only 2 miles from Chideock itself.
Situated in one of the most picturesque valleys in this part of the county, and spelled as Chideock in the Doomsday Book, this peaceful view of the village street lined with well-built cob and sandstone cottages pre- cedes the arrival of the motor vehicle, and the transformation of this thoroughfare into the busy A35.
 
On the left is the mainly Perpendicular church of St Giles, restored in 1883 by Crick may, who also built the chancel. At the top of the High Street stands this magnificent three-storey residence built in 1798 for the merchant Samuel Roles, indicative of the wealth which came to the town in the 18th century, largely as a result of the Newfoundland fishing trade.
Chideock, always pronounced without the 'e', is set in a landscape of ancient Ridgeway's and rolling hills. Its charming cottages witnessed some of the fiercest fighting of the English Civil War, and its narrow streets some of the most daring smuggling escapades of recent centuries.
Chideock today is a small community built along the main A35, this makes finding Chideock very easy, driving along the coast in either direction, Chideock is a quiet and quaint haven that you'll be sure to notice.
Take time out, park up and walk the short distance from Chideock to Seatown, you wont be disappointed.